"Together, as friends and disciples, we share Christ's love with one another and with the world."
Our Youth Ministry is all about...
Growing in Faith,
Building Relationships,
Being Disciples,
Inviting and Welcoming All People,
Serving Others,

…and we do this all by experiencing and sharing God's grace.
MANY WAYS TO GET INVOLVED!
YOUTH GROUP AND YOUTH EVENTS
We build relationships and friendships through our MS & HS Youth Groups and various other Youth Events!
Our youth groups meet on Sunday Night from 6-8pm during the school year. Youth group is where we build friendships through food, games, service, and more! In addition, we have many fun events scattered throughout the year as a time to decompress from school and extracurriculars. Friends & guests are always welcome!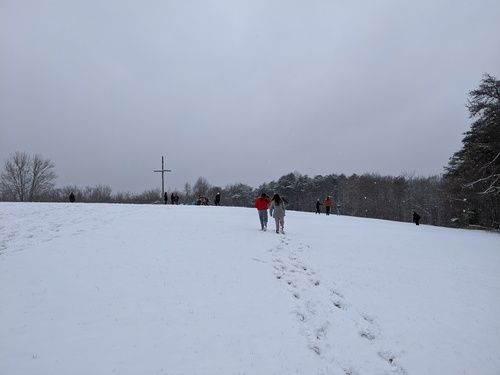 This year, we started our first contemporary Youth Worship Team and have helped form an A/V team to help with Live-Streaming. They have been working hard to engage both the youth and the congregation in worship. Both of our teams are open to both experts and youth who just want to try something new! If you would like to share a gift with us, please reach out to us below:
We are on mission to build up our community through service to others. This takes many different shapes and sizes over the year, from serving at our Community Friendship Dinners, to helping local food Banks. Our biggest event each year is our week-long Summer Mission Outreach (S'MOREs) Trip that we take out High School Students on.
Whether you are looking to be baptized or to confirm your baptismal vows, our Confirmation Program seeks to engage youth in the process of faith formation in a way that's fun, informative, and thought-provoking. It is designed to get youth to wrestle with the deep questions of faith within their own lives, with the hope that at the end of the process they will profess faith in Christ as they continue on a lifelong journey of being a follower of Jesus as a full member of his church.
Worthington Presbyterian Church also is grateful to sponsor our very own Boy Scout Troop!

Troop 268 meets every Monday night at the church from 6-10pm.

Troop 268 is passionate about developing leadership skills in youth in a fun and interactive way. If you would like to know more, please visit their website below:
Follow our youth ministry on social media
Looking to get involved? Fill out the form below to get started.
Director of Youth Ministries